Maurizio Staffetta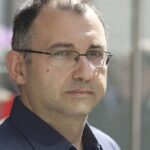 About me
Florentine by birth, I live now in Meran, I define myself as a "citizen of the world".
Photography has always accompanied me during my travels in Italy, Europe and all over the world.
I deal with various genres: street, landscapes, macro, reportage, portraits, Still Life.
I like to experiment with any subject I photograph, I try to highlight, for example, a normally neglected detail, a particular reflection, an unusual shot: I only shoot if an image provokes an emotion in me.
Photography for me is like freezing space-time to memorize a light, a look, a shadow, a color.
The before and after are not important, only that moment counts, unique and unrepeatable.
My history as photografer
At the time of films I shot only landscapes and macros, using first a camera Canon AE-1 and then a camera Canon T70.
For studio macros I used a Canon Autobellow with a Canon 35-70 macro FD lens, while for outside macros I used close-up lenses on a 100 mm Canon lens.
For landscapes I used a Canon 28 mm lens, a Canon 50 mm lens and a Canon 200 mm lens.
My actual experience as photographer
Switched to digital in 2008, I use now a Canon 60D with a Sigma 18-250 lens and an 8 mm fish eye Samyang lens, approaching also portraits, Still Life and street photography.
My actual experience as Web developer
I began to develop Web sites in 1995, using HTML. Now I use the WordPress and Kentico CMS to create, to maintain and to update modern, multilangual and responsive Web sites.
I can use photos provided from the owner of the site or I can shoot new pictures on demand with also post production.